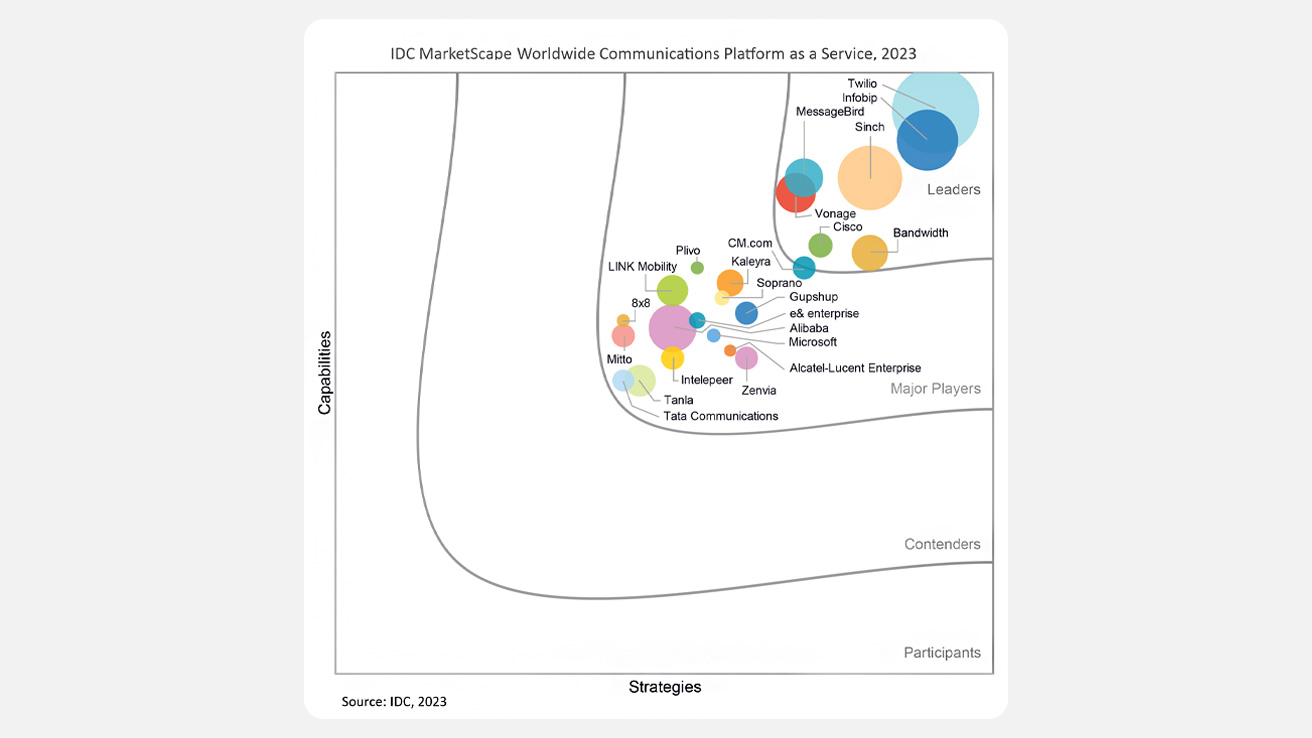 Report
Cisco is a Leader, IDC MarketScape report for CPaaS 2023.
In this report see where our CPaaS solution, Webex Connect, is positioned in the IDC MarketScape alongside other CPaaS providers globally.
Find out more
IDC MarketScape Worldwide CPaaS
The Communications Platform as a Service (CPaaS) market is still one of the strongest IT sectors and while many companies are delivering their digital transformation plans, refining and perfecting customer engagement is still a complex process. CPaaS is ideal to simplify and automate customer journeys for great customer experiences.
Cisco has a CPaaS solution, Webex Connect, as part of its Webex CX portfolio. We offer a secure, scalable, and compliant CPaaS solution that is designed specifically for enterprises, and delivers end-to-end customer journeys across multiple communication channels, that integrate with existing back-end systems.
Download the report to learn:
IDC opinion and latest insights into the CPaaS market. 

Key attributes for enterprises to consider in choosing a CPaaS provider. 

What makes Cisco a Leader in the IDC MarketScape, and IDC's view on when to consider Cisco for CPaaS: "if you are an enterprise company with diverse employee communications and customer engagement requirements"

Source: "IDC MarketScape: Worldwide Communications Platform as a Service 2023 Vendor Assessment", by Courtney Munroe and Melissa Fremeijer-Holtz, May 2023, IDC # US50607923
The IDC MarketScape vendor analysis model is designed to provide an overview of the competitive fitness of ICT suppliers in a given market.  The research methodology utilizes a rigorous scoring methodology based on both qualitative and quantitative criteria that results in a single graphical illustration of each vendor's position within a given market. The Capabilities score measures vendor product, go-to-market and business execution in the short-term. The Strategy score measures alignment of vendor strategies with customer requirements in a 3-5-year timeframe. Vendor market share is represented by the size of the circles. Vendor year-over-year growth rate relative to the given market is indicated by a plus, neutral or minus next to the vendor name.