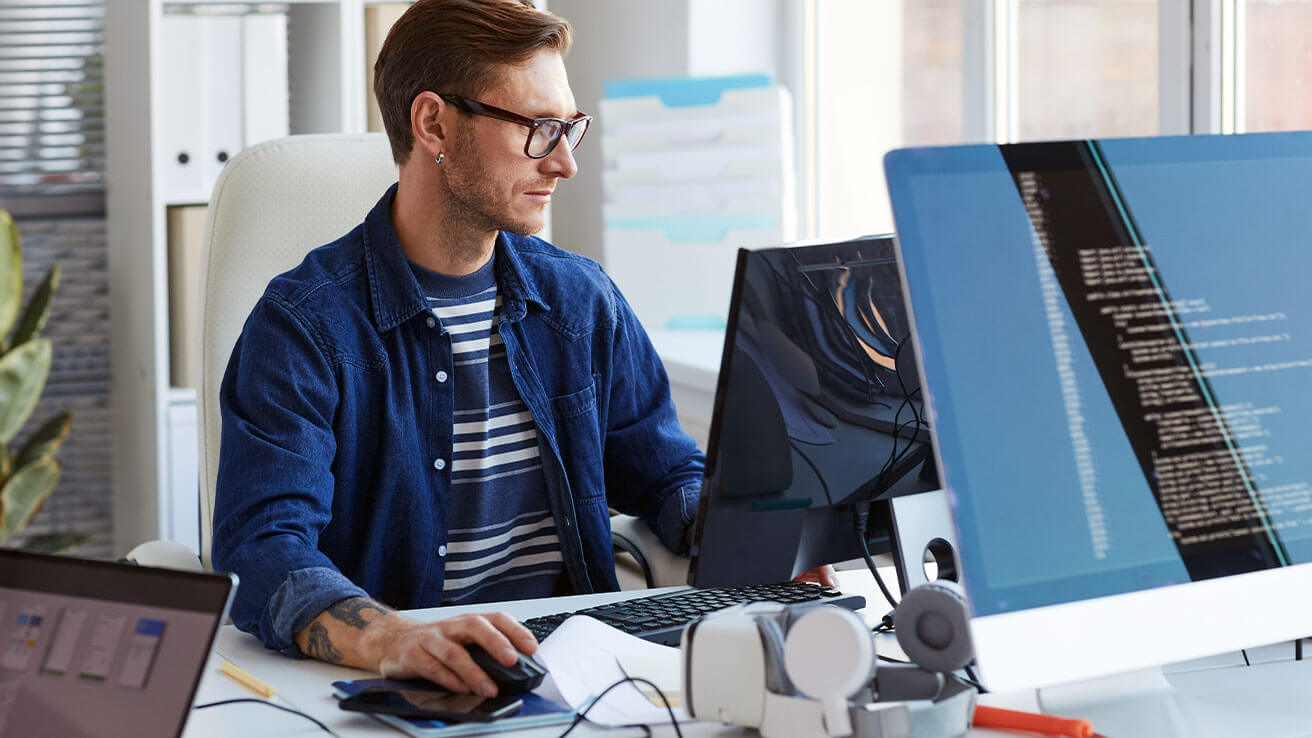 Developer sandbox
Start a rich conversation today.
Trial the capabilities of Webex Connect in a no-cost, risk-free testing environment for enterprise developers and IT.
Create your account
What is the developer sandbox?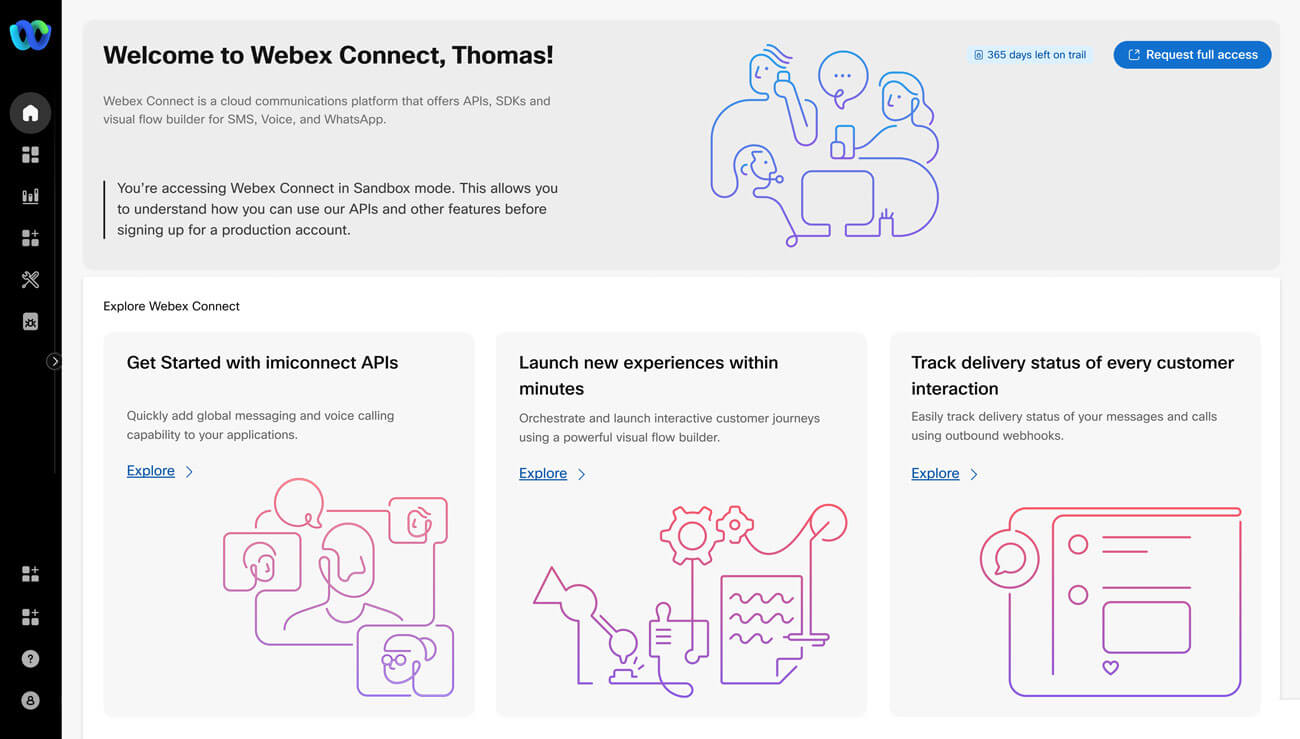 The Webex Connect developer sandbox is a pre-configured environment in which you can prototype applications with channels such as SMS, voice, and WhatsApp. It is designed to allow enterprise developers and IT leaders to trial the APIs, SDKs, and advanced CPaaS capabilities of Webex Connect. It's a perfect way to test your ideas and discover what's possible when you have one platform for orchestrating all your communications channels.

Because it is a testing environment, it does have a few limitations. But, don't worry, it's easy to upgrade to a production account to access all channels and features. When you're ready to harness all the channels and capabilities of Webex Connect, all you have to do is click the 'request upgrade' button found throughout the developer sandbox. 
Our developer sandbox channel APIs.
SMS
Send and receive text messages leveraging our direct carrier connectivity and relationships.
WhatsApp
Have conversations with customers on the world's most popular messaging app.
Voice
Integrate voice into any application to make, receive, and manage calls around the world.
VIDEO
Webex Connect.
Manage all your customer interactions and channels in one place with our enterprise CPaaS platform. From APIs and pre-built integrations to low-code tools, Webex Connect equips developers and IT leaders with everything they need to create and optimize the communications journeys that deliver a better experience to every customer.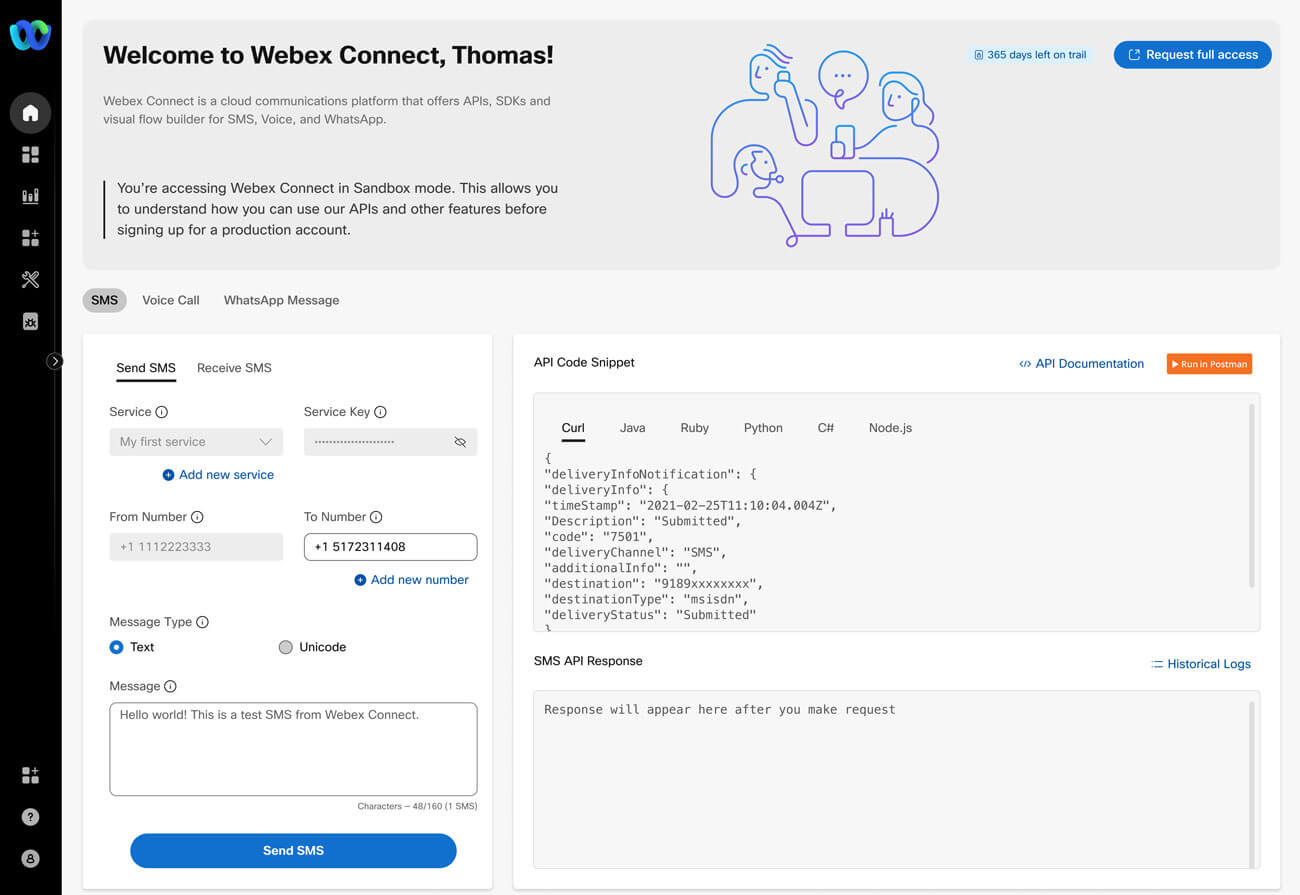 Build amazing experiences with a few lines of code
APIs & SDKs
Our APIs and SDKs are a developer's best friend. To prove it, you can prototype applications that use SMS, voice, and WhatsApp in the developer sandbox. There are 16+ channels available on the full platform, but we've chosen these three as they are the channels most requested by developers using Webex Connect. 
Visual flow engine
Should you make the switch to low-code development? Experiment with our market-leading visual flow engine to build communications-enabled applications in minutes. 
Integrated tools
Leverage built-in tools for debugging, reporting, and much more. Quickly identify and resolve issues as you build new experiences, and gain the insight you need to optimize customer journeys.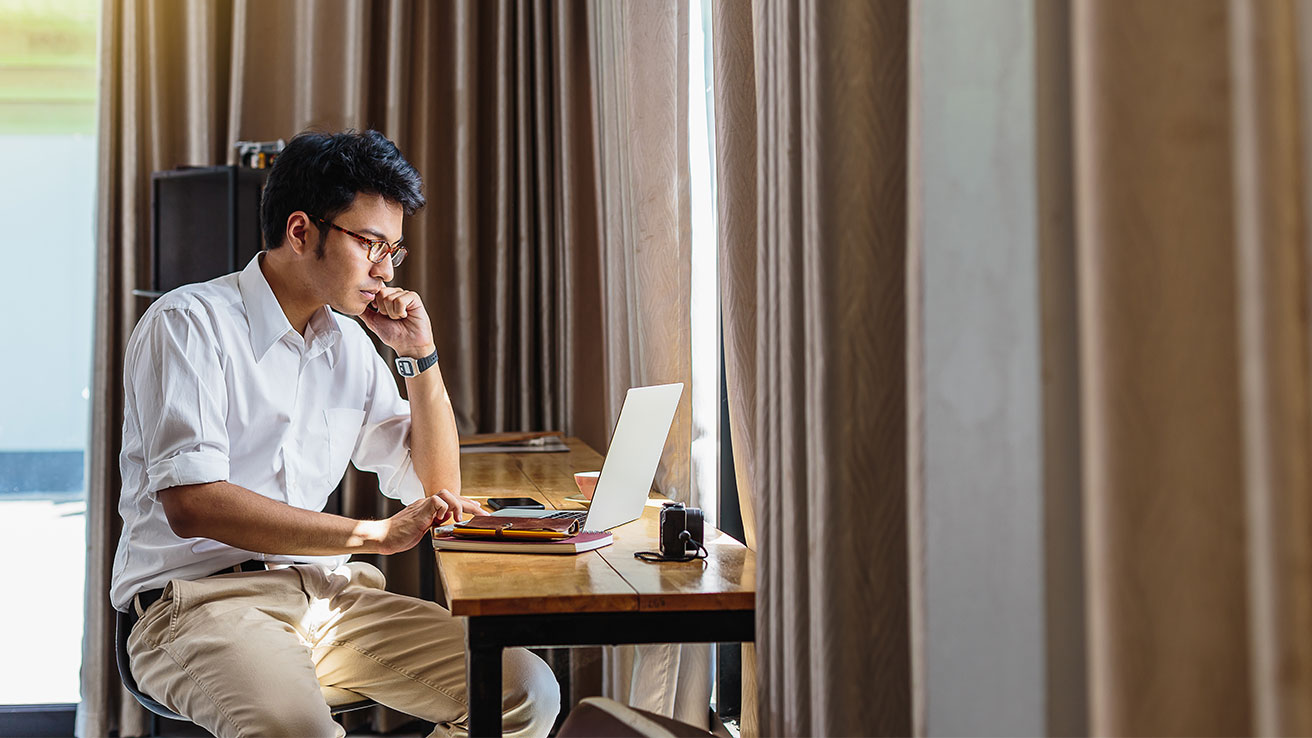 Perfect for the CPaaS procurement process
No commitment
Our sandbox is specifically designed to help developers and IT leaders understand how they can use the APIs and features of Webex Connect to drive digital transformation. Perfect to test and evaluate before you buy.
Welcome tour
Get acquainted with the sandbox through our welcome tour. If you need help, take a look at our extensive documentation in our Webex Connect developer hub. 
Easy upgrade process
Build with confidence knowing that once an application is ready to be scaled, or you want access to all channels and features, you can easily upgrade to the full platform.
Understand why leading brands choose to build on Webex Connect.
Orchestrate every customer interaction on one platform.
Book a demo or try the developer sandbox now.