Pizza Hut Delivery and imimobile: Grabbing a slice of the RCS messaging opportunity
How Pizza Hut Delivery saw improved customer engagement and transaction rates following RCS messaging trials.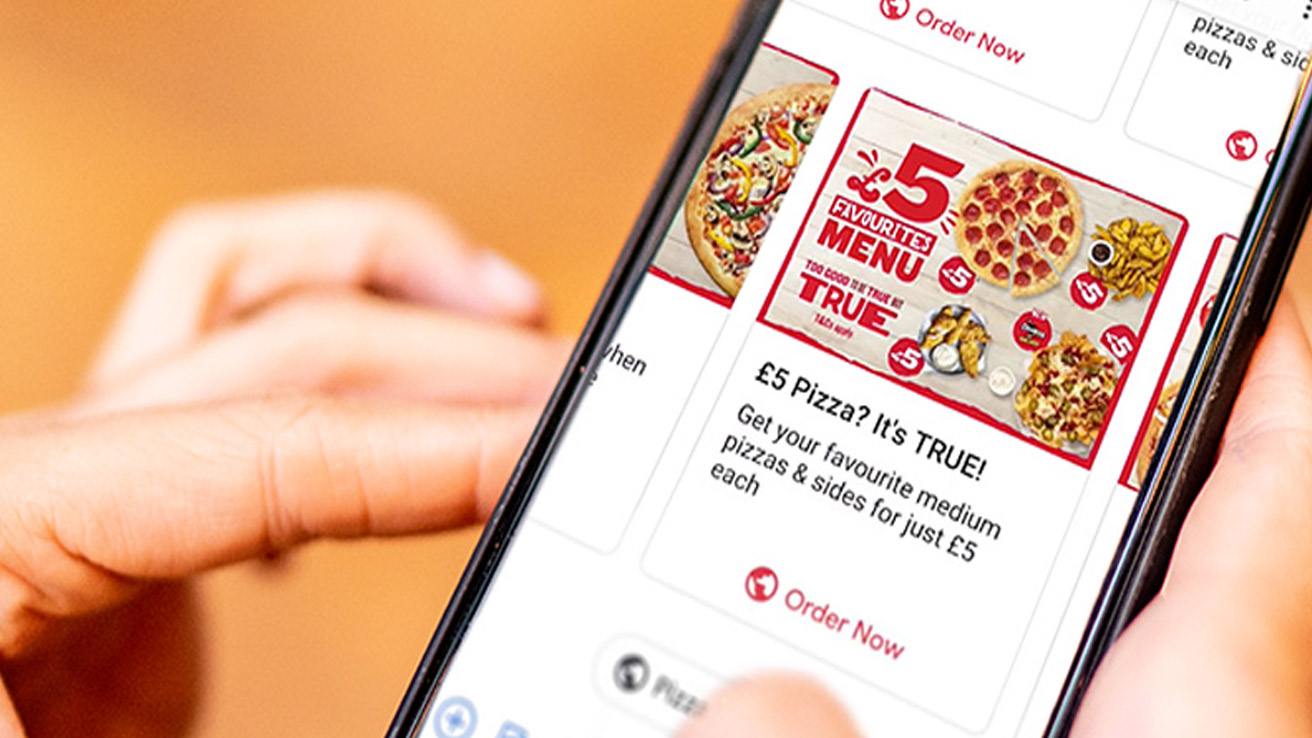 Pizza Hut Delivery has been working on promotional SMS campaigns with imimobile for the last eight years and is always looking to explore ways to evolve its customer communications. Spurred on by the ubiquity of smartphones and desire to stay at the forefront of technology innovation, Pizza Hut Delivery decided to work with imimobile to trial Rich Communication Services (RCS) Business messaging to share promotional offers with customers.
Why RCS messaging?
RCS is the next evolution of SMS, promising a richer and more interactive experience than a plain text message with a single hyperlink.
Using RCS, Pizza Hut Delivery customers were sent branded messages which included a company logo and 'blue tick' verification icon (to confirm the message was genuine). Below this was a carousel of offers (relating to individual pizzas and bigger bundles that contain sides and drinks); if interested, customers could then click through to the website and place an order. Contact details for their local outlet (including telephone and email) were available if customers clicked on the Pizza Hut logo, while T&Cs and opt-out options were also clearly displayed.
As well as changing the style in which messages were sent, RCS also put Pizza Hut Delivery in a better position to analyze the impact of campaigns than SMS. RCS enables businesses to check how many people open messages, making it possible to identify what kind of offer customers are most likely to engage with.
Charting a course for success
imimobile ran a series of trials with Pizza Hut Delivery, starting in December 2018, contacting the same number of customers through RCS and SMS, to provide a direct comparison. Starting small, they set out to learn during the process and build out their campaigns to a broader customer base. This ran through two key stages:
1. Forming a solid base and choosing the right toppings
During the first trial, messages were sent to 150 customers over RCS and SMS. RCS immediately showed much higher engagement with customers, delivering a click-through rate that was 280% higher than SMS.
For the next two trial campaigns, activity was significantly scaled up – firstly to 720 customers and then 64,000. Again, RCS messages received a much higher click-through rate than SMS: 12% higher than SMS for the second campaign and then 37% higher at the third attempt.
2. Baking to perfection
With click-through rates consistently higher for RCS during the trial, imimobile's attention then turned to helping Pizza Hut Delivery convert that into transactions. For this, they decided to see whether a single rich card containing one single deal/offer would help focus customer attention more than a carousel containing multiple options, and therefore make them more likely to convert.
RCS still had a higher click-through rate than SMS, but with the simplified approach, this also pulled through to transactions, which were 13% higher for RCS than those generated by the SMS campaign.
Next steps towards fuller RCS roll-out
Pizza Hut Delivery is now looking to further develop its RCS strategy and build on the knowledge gained in the initial trials.
"We've always taken pride in the innovative approach we take when interacting with customers," said Catriona Woodward, Head of Digital at Pizza Hut Delivery. "We believe that RCS messaging has the potential to take our mobile customer communications to the next level, both in terms of providing a more visual experience and a greater understanding of how customers are interacting with our promotions. So, it was particularly interesting to see the single rich card offer was more popular than multiple offers sent via a carousel. We will take the learnings on board as we develop our RCS strategy further."
"One of the key ingredients of our successful relationship with Pizza Hut Delivery is how open the company is to new technology," added Eduardo Moura, Commercial Director, imimobile. "We thought RCS would be a good fit due to the franchise network nature of the business – RCS makes it much easier to send messages tailored to specific customers in different regions of the county.
"The more appealing visual nature of RCS has already proven to be very effective and we look forward to working with brands as they look to experiment further with the channel. RCS is much more than simply visual messaging as it can also enable customers to receive real-time updates through to completing transactions within the mobile application. So, in that respect, we are only touching the tip of the iceberg of what is possible with RCS."
Download eGuide here.