Google's Business Messages: transforming sales & customer service interactions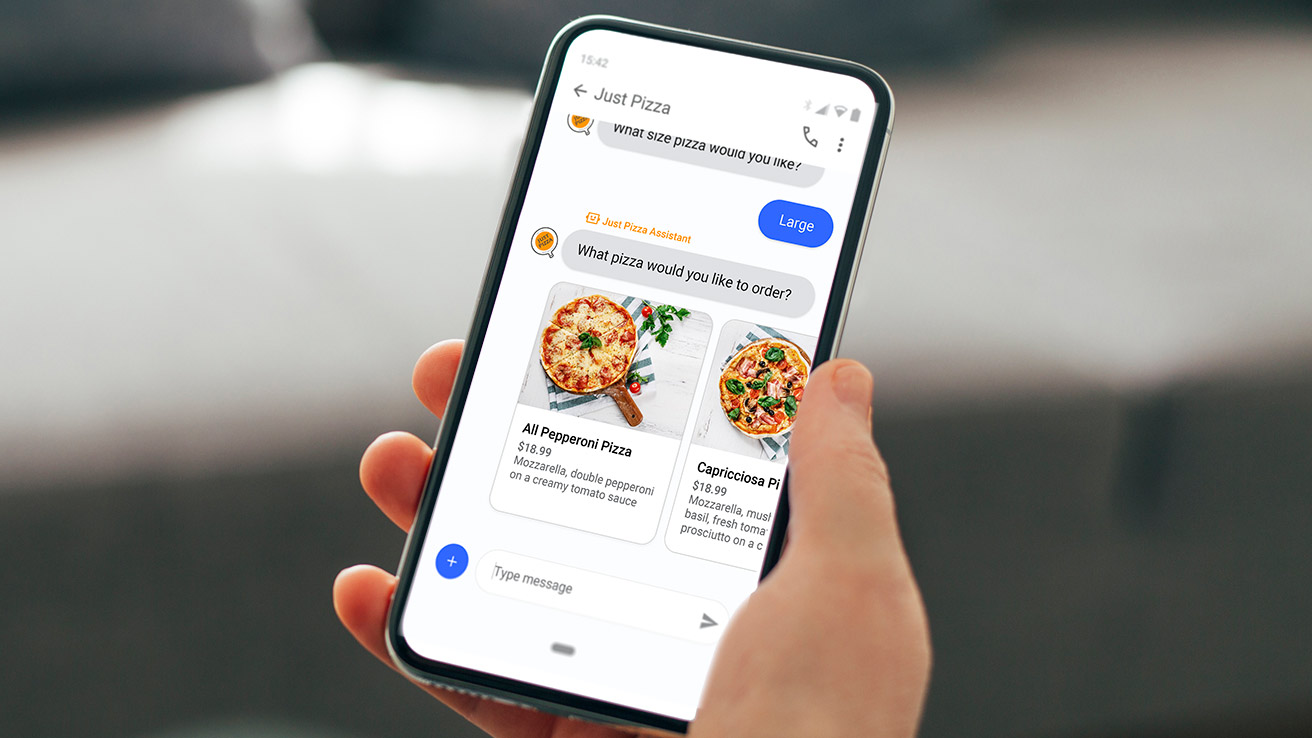 Customers are loyal to brands that make it easy to purchase products and get support, and loyal customers matter. They are more likely to spend more, try a new service, and recommend a brand to a friend.
Customer service expectations are at an all-time high and more people are shopping online now than at the start of the pandemic. Therefore, brands must find ways to better connect with and then meet customer needs over digital channels.
In this blog, we're going to look at how Business Messages, a new rich messaging channel from Google, can improve online purchasing and customer care experiences.
Turning searches into conversations with Google's Business Messages
Business Messages is a way for brands to put themselves in front of Android and iPhone users searching through Google. When a user enters a query into Search or Maps, they can find a business and then tap a messaging button to begin a conversation instantly. The process is simple: search, discover, interact.
When a conversation begins, chatbots and customer service agents can take advantage of rich carousels, cards, quick replies, photos, and more to engage with users. It's a conversational solution that helps retailers, banks, hotels, utility providers, and even B2B businesses to create richer messaging experiences for their customers.
The volume of Google searches grows by roughly 10% every year. Business Messages is an opportunity for brands to turn a growing number of searches by potential and existing customers into messaging conversations.
How to drive sales with Business Messages
Considering how easy it is for users to discover and then begin interacting with a brand, Business Messages is an excellent tool for providing information about products and services.

We know that:

83% of people contact brands to find out more about their products.

59% of people want to use messaging more to make purchases.

Approximately a third of product searches start on Google.
Business Messages helps brands to meet these needs and take advantage of Google's control over a large proportion of product search traffic.
Users can easily interact with a chatbot to tell them what they are looking for and then be guided through an end-to-end purchasing journey. Videos can be shared that showcase the latest products and users can browse through different options using rich card carousels. Users can create a basket of items they want to purchase and select a delivery method. Once they are ready to pay, they can then check out using a website link, receiving a confirmation of their order in the chat.
If you would like to see an example of how easy it is for users to purchase through Business Messages, watch this short user journey video from Google.
Alternatively, some brands are using Business Messages to link the digital and in-store experience. Woolworths, Australia's largest supermarket, allows customers to search for products and see aisle information at their local store, plus get details about opening hours to make shopping easier.
How to improve customer care with Business Messages
The impact of great customer service on customer satisfaction and loyalty is well documented. When it comes to customer service, people want an instant response, convenience, and a quick resolution.
The use of Google to find a brand's customer service webpage and contact details results in billions of calls every year. Business Messages acts as a call deflection point, turning potential customer service calls into chats on a digital channel.
Once a conversation begins, a chatbot welcomes the customer to the channel. From there, the chatbot can ask qualification questions and guide the customer through the different self-serve options that are available.
Some example use cases include:
Managing accounts

Booking appointments

Checking delivery status

Organizing an outbound customer service call

Returns management
A customer service agent can be connected to the chat if the chatbot isn't able to handle the request. Expected response times are displayed to help set customer expectations. As the chat continues, the query can be escalated to a call or video chat as needed.
By using Business Messages for customer service, businesses can reduce operational costs by lowering call volumes and increasing automation while improving customer satisfaction.
Why choose imimobile for Google's Business Messages?
imimobile is a member of the partner program for Business Messages. This allows us to build with the technology and influence the future roadmap. With our Customer Interaction Management Suite, we're able to connect business systems to automate and orchestrate customer interactions. We can do this for every area of the business, including marketing, operations, and support.
To get your Business Messages program up and running, we'll register your brand with Google's services. From there, we'll build your chatbot, determine fallback options, and provide training.
If you're ready to learn more about using Business Messages and how to get started, visit our channel showcase page to try our demo and get in touch with an expert.